A couple of months ago, I returned to drawing computer graphics.
These little 'quirky' folk are from a design collection that were hand-drawn and colored, by me, many years ago.  At the time, I  called them, "Folk Like Us".
Now, I call them-
"The Quirky Folk"
Having finishing them, and not wanting them to just sit on a flash drive, I put some of the "Folk" on mugs, and tote bags.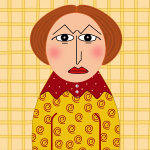 Miss Elainies
Last October, during hurricane Matthew, there was a mandatory evacuation in our area. We had to leave our home and move inland to safety and stay in a shelter. After almost 3 days, we returned home and found damage to our roof.
Today, finally, the roofing contractors are repairing and shingling our roof. I will be so glad when they are finished.
Having a damaged roof, for so long, weighed heavily on us.